Sample Tariff with Multiple Utilities
In this example, the management company is being billed for both electricity and water by Perpetual Motion Electricity. This is where Reading Groups become important; they differentiate Meter Readings among multiple meters under the same Tariff.
Here the company is being invoiced a Consumption Rate per unit for both water (ft3) and electricity (kWh). There are also monthly service charges for each.
In this case, the totals for water and electricity are broken out separately from the invoice total. While the tariff can be broken out as detailed or general as desired, it is best to follow the example of the utility provider's invoice to make checking for accuracy against billing charges easier. Any charges on the invoice, including calculated values such as tax, can be entered into the tariff.
Consumption values for both Reading Groups are drawn from the invoice in this example.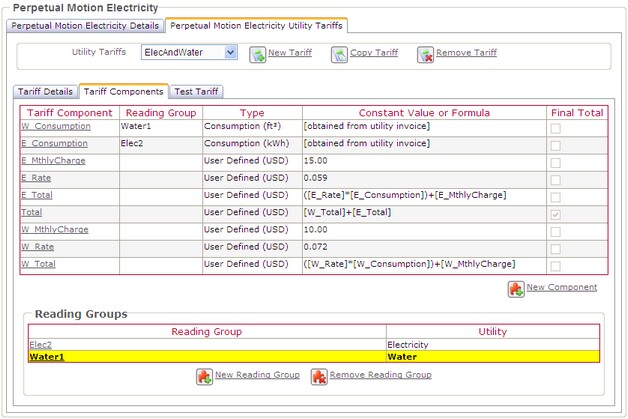 ---
snippet_Multiple_Meters_in_a_Tariff
&nbsp &nbsp &nbsp &nbsp ©2014 Managing Energy Inc.