Tab 2 included the features for keying in, importing, and viewing utility invoice information. Energy accounting functionality in this module turns invoice data into decision information. Manage and control your commercial relationship with utility companies.
| | |
| --- | --- |
| • | Define utility tariffs so ManagingEnergy can find billing errors. |
| | |
| --- | --- |
| • | Use recent energy use history to compare supplier and tariff options. |
| | |
| --- | --- |
| • | Check each invoice for unusual patterns, to spot billing errors or energy waste. |
| | |
| --- | --- |
| • | Share invoice data from ManagingEnergy with your ERP or accounting system, instantly. Eliminate double entry or spreadsheet exports and imports. |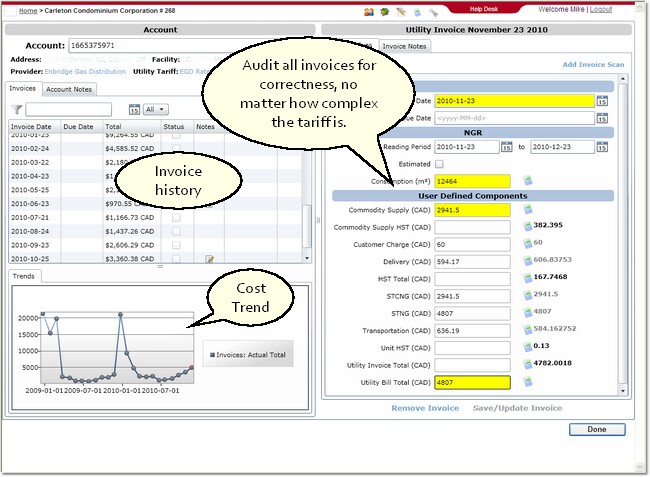 The invoice pane shows history and cost trends, as well as the invoice auditing process, during manual entry.
Invoice Handling Options
Invoice data entry will be the biggest ongoing regular task. If you have a lot of buildings, it's time consuming and not much fun, so you sure don't want to have to key in invoice data more than once. ManagingEnergy gives you a number of options for getting your invoice data into the system.
| | |
| --- | --- |
| • | Import off spreadsheet or EDI files - some utilities will provide invoice data electronically, either as spreadsheets or Electronic Data Interchange files. ManagingEnergy uses stored field-matching templates to interpret invoice records and bring them in cleanly. |
Use the upload wizard to bring in spreadsheet batches, with full data verification and reporting.
| | |
| --- | --- |
| • | Invoice Entry Web Service - during provisioning, we can create an interface to your accounting or ERP system, or directly to the systems of your utility providers. Most modern information systems have this kind of interface capability, and the setup effort is usually very reasonable. Invoice information is passed securely from one system to the other, as soon as it becomes available. This method offers the least manual interaction and the fastest response and update times. |
| | |
| --- | --- |
| • | Individual key entry - you transcribe the information off the invoices or Pre-Authorized Payment statements into a standard screen form. Attach a pdf scan of the invoice if desired. |
| | |
| --- | --- |
| • | Managing Energy Inc. does it - we receive your invoices, scan them, and enter them for you. Because of our volume, this is very likely to be less expensive than doing it yourself, and of course you can review them any time through your ManagingEnergy subscription. |
Regardless of the entry method, we can set you up for single-entry, real-time, error-checked data pass-through to your ERP or Accounting system. Our invoice audit process includes all of the visual checks you may be doing now, and many that you likely aren't doing, at computer speed. It tags unexpected invoice situations, and creates a consolidated exception report describing each concern and providing the utility company contact information for your staff to follow up.
---
gt_Module2.UtilityBills
&nbsp &nbsp &nbsp &nbsp ©2011 Managing Energy Inc.