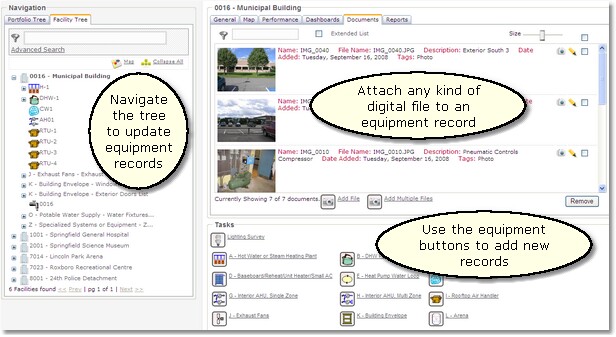 Inventory and store detailed information on the mechanical systems, electrical equipment, and building envelope...all the facility details that contribute to energy use.
| | |
| --- | --- |
| • | Piping, Air Flow, and Controls Schematics |
Most of this information has to be collected to do a thorough energy audit anyway. ManagingEnergy is a great way to store it and share it for ongoing operations purposes.
The standard buttons conform to a standard form set. With the exception of industrial process equipment, these standard forms cover all of the energy-using systems you are likely to find in buildings.
Custom Forms
If you want to simplify the data collection and storage by removing forms, or by simplifying existing forms, that's easily accomplished. If you want to add information related to your specific building sector, either new forms and equipment records, or new pieces of data within existing forms, that's no problem either. Each subscribing organization can have a custom layout tailored to their business.
Lighting Retrofits
Lighting modernization is often a big part of energy conservation programs. The physical survey draws on a huge database of lighting fixtures, lamps, ballasts, and retrofits, to speed up the lighting portion and quickly identify suitable technology upgrades on a room-by-room basis if desired.
Lighting upgrades can be the easiest conservation opportunities to assess. The key is collecting and organizing all the details of existing equipment, and determining what is involved in the upgrade. Sorting and reporting on this kind of information is something that computers are good at.
---
gt_Module4.PhysicalDetails
&nbsp &nbsp &nbsp &nbsp ©2011 Managing Energy Inc.