Features and tools are accessed through five Module Tabs, sequenced by timeline and level of user engagement.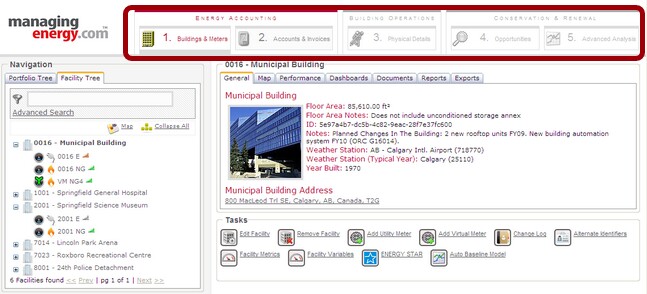 Five functional tabs are arranged in a logical sequence, and made available according to the subscription level. Within a subscription, individual users are assigned roles to expose information and functionality according to their job needs.
Module Tabs
The current module tab appears in full color and other tabs appear in grey. A user with full access privilege will see all five, but many users will see only one or two tabs. Move from module to module by clicking on the tabs.
The six module tabs are:
Set up your buildings, including contact information and basic physical details. Attach your utility meters and utility account information. If you can provide this in a spreadsheet, Managing Energy Inc. (MEI) staff will enter it for you as part of the normal account provisioning process.

Enter utility invoices. MEI will import up to three years of historical invoice spreadsheets for you, as part of the account provisioning. Ongoing, ManagingEnergy supports manual entry, flat file import, and automated meter data streams from a variety of sources. Our published API and Web Services technology makes it easy to minimize or even eliminate manual entry.

Document the systems, equipment, and operating practices that contribute to energy use at the sites. This information is essential for a building systems engineer to find conservation opportunities, analyze them, and determine if they are truly feasible.

Identify, assess, and fully document the opportunities to reduce energy costs and environmental footprint in each of your facilities..

Customize your utility baselines. Factor out production variables that influence energy use (e.g. suites occupied for an apartment, beds occupied for a hospital, meals served for a restaurant). Implement CUSUM statistical analysis to spot consumption drift.
Reports
ManagingEnergy includes a wide variety of standard reports to choose from, and custom reports can be tailored to your particular business needs.
---
gt_Module_Navigation
&nbsp &nbsp &nbsp &nbsp ©2011 Managing Energy Inc.