It takes a certain amount of effort to populate the Building Operations database. Organizations with the right resources can do it internally, or else hire building technicians if staff time is not available. If desired, this effort can be undertaken over an extended period, especially for the mechanical systems, as most fields are informational only and have no direct impact on ManagingEnergy calculations.
Entry During Energy Auditing
The most common approach is combine the effort with an energy audit program. Specialist energy auditors collect the information at each building site, as required for the energy audits. In the past, this information would be discarded at the end of the audit project. ManagingEnergy provides a way to re-use it and extend the value to day-to-day operations.
Standard data collection forms have been designed for collecting the necessary information for equipment common to facilities in all sectors.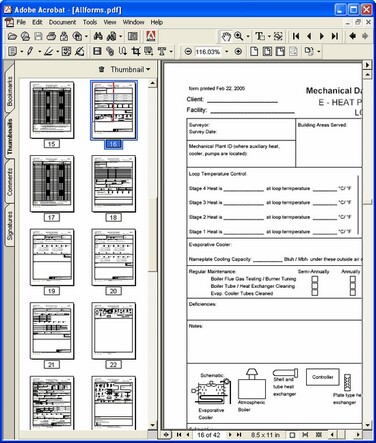 Adobe Acrobat forms, available in the Help Desk under Users Reference, correspond with the data entry screens available through the Building Operations tab. Each data collection form corresponds with a data entry screen in ManagingEnergy, designed to look similar and to hold exactly the same information. Individual forms are identified through a unified letter and number coding system. For example, Form A, either the PDF or electronic version, is used to record information on Hot Water and Steam Heating Plants. Form A1 is for Water Circulating Pumps, Form A2 for Boilers, and so on.
Typically, site auditors sort the completed paper forms by physical plant and then turn them over to data entry staff, who will transfer the information to the database.
---
S3_Survey_Forms
&nbsp &nbsp &nbsp &nbsp ©2014 Managing Energy Inc.