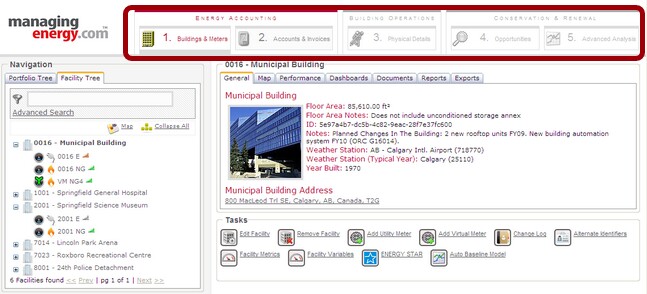 Five functional tabs are arranged in a logical sequence, and made available according to the subscription level. Within a subscription, individual users are assigned roles to expose information and functionality according to their job needs.
ManagingEnergy is an enterprise system for managing and conserving energy use in buildings. It is an online service available in three subscription levels:
Subscription Level 1 - Energy Accounting
Energy Accounting encompasses the essential activities to bring your energy spending within a managed framework. It includes budget setting and tracking , ongoing performance reporting, and regular feedback to those who have the responsibility and greatest impact on energy use.
Collect and analyze utility invoices, looking backward and projecting forward. Generate performance baselines and budgets, compare rate tariffs, compare buildings within your own portfolio and against other ManagingEnergy subscribers. Produce portfolio reports for management, or drill down to individual buildings and meters. Streamline invoice handling, capture invoice errors, prevent late payment penalties, and eliminate double entry by integrating with your ERP system.
When you know the electrical generating mix, and the carbon content of your input fuels, energy accounting is CO2 accounting. ManagingEnergy transparently provides the electrical generating mix for jurisdictions across North America, and keeps it current year by year, so your energy profile can be translated immediately into a carbon footprint for your building operations. This is the kind of input that feeds directly into sustainability initiatives and Corporate Social Responsibility reporting.
Energy accounting is the entry level; a logical starting point to get organized.
Subscription Level 2 - Building Operations
Effective energy management doesn't stop at the meter. Before you can assess and implement conservation measures, you need to have a solid understanding of the building systems and features that influence energy use. This part of the system is often populated by outside service providers as part of an energy audit (which is frequently funded under government or utility incentive programs). Document mechanical and electrical systems in a logical tree structure, attach documents of any kind (photos, shop drawings, service manuals, inspection reports), leverage the information with the building operations team.
Team collaboration is the key to an enterprise energy management program. The Building Operations module is a central place to share information that you need to make available to operating staff, building occupants, service contractors, and outside service providers. And the interface is security-trimmed so each person sees only the information relevant to their own job.
Subscription Level 3 - Conservation and Renewal
Once you have an effective energy accounting process in place, and effective documentation of building systems and operations, you're ready to look at specific actions to improve energy performance. A full subscription includes the Conservation and Renewal module, designed to assess, plan, and implement Conservation Opportunities. Opportunities can include physical changes to building systems, changes to operating practices, or awareness programs designed to facilitate changes in occupant behaviour.
Energy Auditing. The assessment of opportunities is the output piece of an energy audit, built on top of the energy baselines and building documentation. The Conservation and Renewal module stores the results of energy audits for financial modeling and planning, and ultimately for sharing with the roll-out team once implementation decisions have been made.
Why Renewal? Because asset renewal and energy conservation work should never be separate activities. Equipment upgrade or replacement is ongoing in buildings, and capital renewal projects can be the perfect time to consider energy-saving options. Many attractive conservation opportunities are lost when capital projects fail to consider future energy costs. Similarly, energy conservation programs often enable financing of capital renewal, using the future savings stream, that would otherwise not be funded. With effective Life Cycle Costing tools and NPV calculators, ManagingEnergy lets you put renewal and conservation projects side-by-side to build up a complete picture of your competing facility investments.
A Level 3 subscription includes financial scenario modeling...an infinitely flexible way to sort and organize the many opportunities you may have in your buildings. Group similar opportunities for procurement cost-efficiencies. Or sort them geographically by implementation teams.
Once you've implemented the measures, ManagingEnergy uses industry-standard calculations to track performance against the baseline and your target. Independent variables like weather or production volumes are factored out so there is never any confusion...you've either met your targets or not.
ManagingEnergy Grows With You
A ManagingEnergy subscription can be upgraded at any time, as you need the features. Start small and pay for only what you use, then add buildings and functionality over time.
---
imec_The_ManagingEnergy.com_System
&nbsp &nbsp &nbsp &nbsp ©2011 Managing Energy Inc.