Available in Module 3 - Conservation and Renewal
A ManagingEnergy subscription includes a library of standard energy conservation opportunities, based on many person-years of professional energy auditing experience. An energy analyst can draw a standard opportunity from the library at any time and attach it to a building, and then edit that specific instance to correspond to the particular conditions at the site. A standard opportunity definition includes boilerplate text, notes to help with energy conservation and savings calculations, and in many cases a reference to material published by others.
Standard opportunities are intended to help the energy audit team come up with suitable ideas, and to save report-writing time and effort.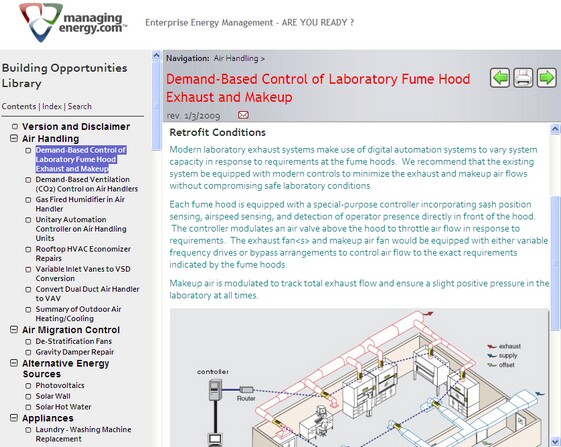 ManagingEnergy users can use the library as a reference for ideas and details on energy conservation work in buildings. When defining a new opportunity at a particular facility, simply copy standard text from the matching library entry and paste it into the appropriate fields in the opportunity definition. From there, edit the text to suit the facility.
---
BG_Opportunities_Library
&nbsp &nbsp &nbsp &nbsp ©2014 Managing Energy Inc.