There are many applications on the market to help building owners handle and analyze utility invoices. That's a useful accounting function, but it's only one piece of thorough energy management. It helps building owners manage their vendor relationships with utility companies, but it doesn't address building systems and operations.
Saving energy and controlling energy costs is not a simple problem. It's an enterprise-scale challenge involving commercial relationships with utility companies, operation and maintenance of building systems, ongoing renewal of building assets, and the behaviour of facility users. Further, it's an ongoing process, not a project, which engages a broad cross-section of employees and often requires an evolution in corporate culture.
Enterprise systems are designed to solve an enterprise challenge rather than a department problem, aiming to improve the organization's productivity and efficiency. In the case of ManagingEnergy, the challenge is the management and control of energy use and expenditures. Everyone in an organization uses energy to perform their job, and thus influences energy use. Many outside service providers, like service contractors and engineers, also play a part. ManagingEnergy draws that enterprise-wide group together to communicate and collaborate toward the common goal.
Characteristics of enterprise software are performance, scalability, and robustness. ManagingEnergy uses an industrial strength database (Microsoft SQL Server), designed for high-speed, reliable performance regardless of the amount of data being processed.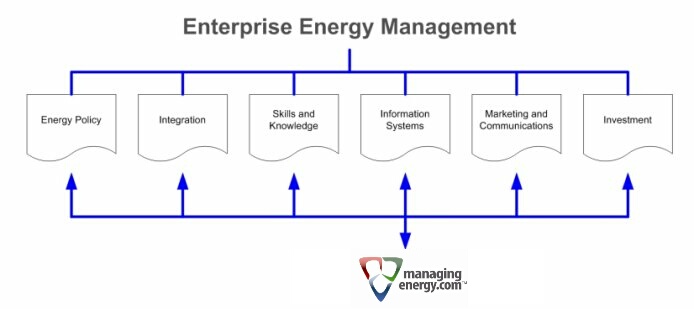 Enterprise energy management is a broad undertaking,
requiring effective management of resources and information.
A Community Beyond Your Enterprise
Your company is not alone. As online Software-as-a-Service with a central data repository, ManagingEnergy links building owners and energy experts from around the world. Features like Energy Intensity Comparison and the Building Opportunities Library let building owners join the ManagingEnergy community and share experiences and best practices for the benefit of all.
---
imec_Enterprise_System
&nbsp &nbsp &nbsp &nbsp ©2011 Managing Energy Inc.