Document Management = Expandability + Flexibility
What if your roofing consultant could store and update roof condition surveys in the familiar ManagingEnergy navigation system? How about if your water treatment contractor could store measurements and service activities in your online database?
Think of ManagingEnergy as a safe, hassle-free place to store physical information on your buildings. Take information out of silos and put it in one place where everyone who needs it can get to it.
ManagingEnergy allows you to attach and store documents with any item in the navigation tree. The Documents Tab is a film strip of documents stored with the record. These are mostly digital photos, but can also be schematic drawings, floor plans, PDF user manuals, Microsoft Word files, spreadsheets, or even video and sound files. Mouse over a picture for the upload date and any comments stored with the document. Double click on any of them to enlarge or activate.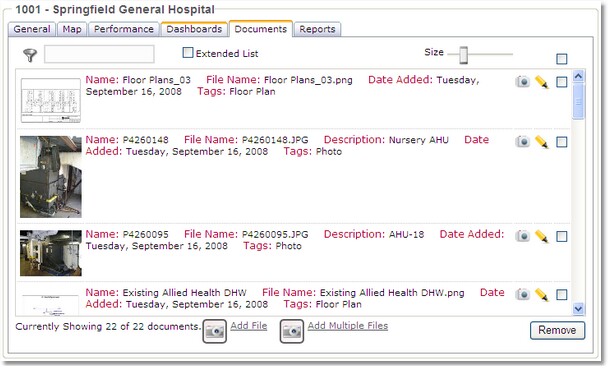 The Documents Tab provides document management functionality. Attached photos, drawings, spreadsheets, or any other kind of document to items in the navigation tree. Open them with a double click.
Documents are attached to the current selection in the tree when they are uploaded. All documents attached to branches of the current tree selection are shown in the tab, so if you find you are looking at more than you need to see, drill down on the navigation tree.
The Documents Tab includes easy and flexible tools to store and organize information.
| | |
| --- | --- |
| • | Documents are normally sequenced by upload date, but you can drag-and-drop to rearrange them. |
| | |
| --- | --- |
| • | When you select a document, you also get the ability to delete the record, edit the comments, or change tags to categorize the document. Double click to open the document for viewing and/or editing. |
| | |
| --- | --- |
| • | The Documents tab also has a feature allowing you to print annotated lists of the graphic files, either full page or reduced. |
---
gt_Docs_Tab
&nbsp &nbsp &nbsp &nbsp ©2011 Managing Energy Inc.