Supply side cost control of your energy spend is a logical place to start, and there are significant savings to be found within the commercial relationships you have with utility vendors. But it's not enough. Most savings from energy management are on the other side of the meter, inside the building, and involve the details of your building systems, equipment, and operating practices. Activities to reduce energy consumption are often referred to as Demand Side Cost Control.
ManagingEnergy provides end-to-end support for the Demand Side Cost Control approach illustrated in Figure 1, allowing contributions from distributed teams on an as-needed and as-available basis.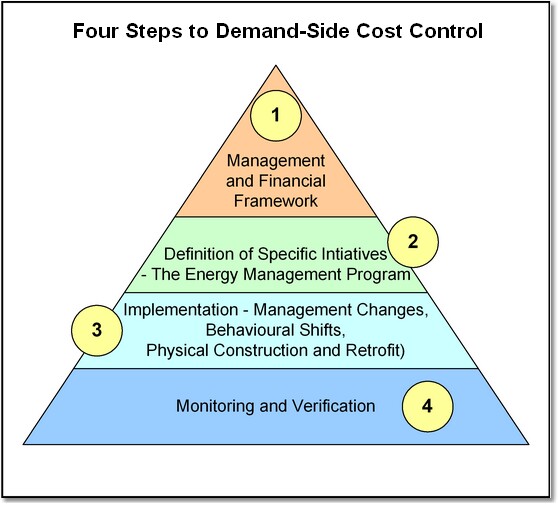 Demand-Side Conservation Model
Step 1 - Management and Financial Framework
Often set by the Owner in discussion with a trusted energy provider or energy service specialist. Management responsibilities, financial criteria, financing sources, internal resources, and overall objectives are generally identified at this point. Underlying the framework is solid understanding of current organizational status:
1. A process for handling and analyzing utility invoices, and for disseminating organizational intelligence about energy use. This is the job of the ManagingEnergy Energy Accounting Module.
2. A solid understanding of physical infrastructure and operating practices that impact energy use. This documentation and resource-sharing is provided through the ManagingEnergy Building Operations Module.
Step 2 - Definition of Opportunities in Each Building
Specific tangible initiatives are identified using the criteria established in Step 1. Costs, benefits, and concerns are all quantified. Affected staff review suggestions and provide input. A group of sub-projects, often including dozens or hundreds of specific opportunities, is targeted for implementation. Management staff will review financial parameters, consider financial scenarios, and plan according to budget cycles and a mix of benefits including ROI and asset renewal. The ManagingEnergy Conservation and Renewal Module is the perfect tool for planning investments and presenting them to management.
Step 3 - Implementation of the Targeted Opportunities
There are a number of ways to get the work done, involving various degrees of involvement by engineers, contractors, and specialist energy service providers. Owner staff will have a significant degree of involvement through the process. This step often includes complementary services such as staff training, plant operation outsourcing, or staff/public awareness programs. Again, the Conservation and Renewal Module in ManagingEnergy is the right place to track the execution of your energy management projects.
Step 4 - Monitoring and Verification
Provides regular feedback to indicate project success with respect to the criteria established in Step 1. It is also used to identify problems so they can be resolved as quickly as possible.
ManagingEnergy acts as the central toolkit to help the program team hold down costs, maximize the quality and reliability of the plan, and present results that are both visually attractive and consistent. At step 3, it is a valuable resource for design engineers and construction managers.
Once the program proceeds to Step 4, ManagingEnergy provides full Monitoring & Verification functionality. And it delivers long-term value to the building owner by providing a structured database of building technical information that can be accessed for operation and maintenance reference, or mapped into a computerized maintenance management program.
---
DemandSideCostControl(Conservation)
&nbsp &nbsp &nbsp &nbsp ©2011 Managing Energy Inc.